Name:
MPO MTP Patch Cord
Connector:
LC SC FC ST MU MTP MPO MTRJ E2000
Fiber Mode:
Multimode,Single Mode
Boot:
0.9mm, 2.0mm, 3.0mm
Ferrule:
PC,UPC,APC
Cable number:
Simplex, Duplex, Multi-fiber
Length:
1m,1.5M,2m,3m,5m,10m up to 100m, Custimized
Color:
Custimized
Product Description
MPO series offers the solution from trunk cables to extended trunk cables, to hybrid trunk cables,to cassette modules, to MPO adapter panels, to direct patch panels, to patch panels in both MPO classification of G class(normal class) and L class(super low loss).
Performance Feature:
Low insertion loss and back reflection loss
Good echangeability
Good Durability
High temperature stability.
Standard: Telcordia GR-326-CORE
Specification: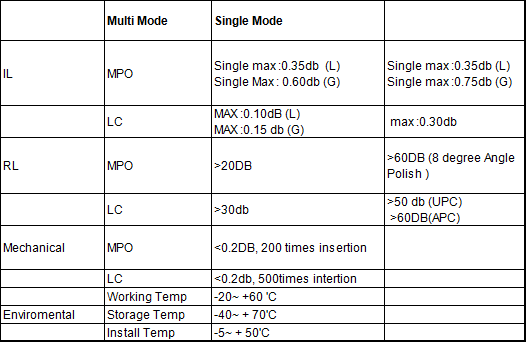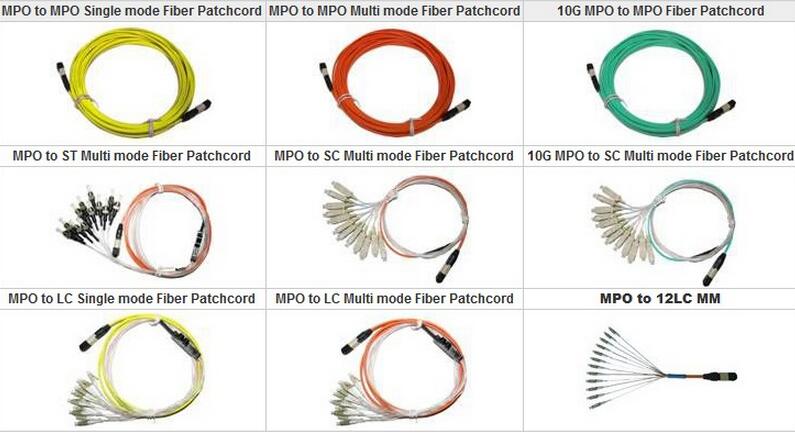 Applications:
CATV
Active dvice termination
Telecommunication networks
Metro
Local Area Networks(LANs)
Data Processing networks
Test Equipment
Premise installations.
Wide Area Networks(WANs)